DESCRIPTION
FLYSIMWARE INFORMATION
The original California Zephyr ran over the Chicago, Burlington and Quincy Railroad from Chicago to Denver, Colorado, the Denver and Rio grande Western Railroad between Denver and Salt Lake City, Utah, and the Western Pacific Railroad from Salt Lake City to Oakland, California.
This train was marked as the most beautiful passenger train as it ran through amazing rocky mountains. This train was marketed to families as a vacation unto itself. The Zephyrettes functioned as social directors, tour guides, babysitters and nurses in short they filled just about any role to ensure that the passengers had a memorial trip.
Rio Grande Zephyr
The Rio Grande Zephyr was a passenger train operated by Denver and Rio Grande Western Railroad. (D&RGW) It ran between Denver, Colorado and Ogden, Utah in the Western United States. It operated from 1970 until 1983. In operation after Amtrak began taking over most other passenger rail service in the United States, the Rio Grande Zephyr was the last privately operated intercity passenger train in the United States.
Our product gives you 2 phase1 F7A units and 2 F7B units along with 16 California Zephyr Silver cars. Includes animations, including MSTS bin bonus animations. All models length and layout is accurate with windows, rooms, seating. More info can be found on our product page, including vidoes!
Take a ride with this popular passenger train through the D&RGW rocky mountains.
FEATURES
ANIMATIONS
Wheels ………………….. Yes
Couplers ………………… Yes
2D Cab ………………….. Yes
3D virtual Cab ………….. Yes
Exterior Engine parts … Yes
SOUNDS
PAINT THEMES
MODEL VARIATIONS
California Zephyr Cars: 16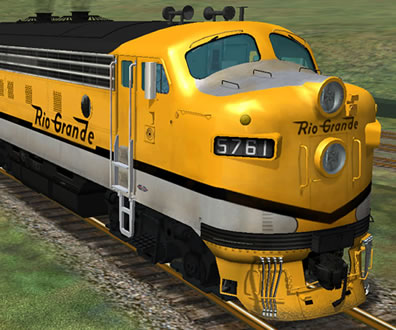 REQUIREMENTS
MINIMUM SYSTEM REQUIREMENTS
Operating System: Windows 7 and up, older os we can't guarantee compatibility or support 
Processor: 1.5 gigahertz (GHz) 
Memory: 4 GB RAM 
Graphics: 2 GB DirectX 10-compatible video card 
Sound Card: Sound card, speakers, or headset