Manuals, patches or Update info can be found on each product page!
RXP website https://reality-xp.com/
Flight 1 website https://www.flight1tech.com/
Payware integrated panels!
GTN 750/650 and WX Advantage radar instructions:
The Milviz WX Advantage radar and Flight 1's or RXP's GNS 430/530, GTN 650/750 work for FSX / FSX steam edition and all P3D versions.
Do not use the config tools to add these addons to our models. We have already integrated them into our models. Just make sure you have these addons installed on your computer. Read below for changing settings.
When selecting our aircraft in the sim that include integrated products they will have these tag names: "RDR_GNS" or "RDR_GTN". Use the RDR/GNS if you do not own these payware addons. Newer products will add a folder to your desktop and include a GPS management tool to select what GPS you want to use. So no extra name tags when selecting paint themes. Below is a better description of the name tags.
RDR_GNS = Milviz WX Advantage Radar unit / Flysimware's GNS530 unit.
RDR_GTN = Milviz WX Advantage Radar unit / Flight 1 GTN750 unit.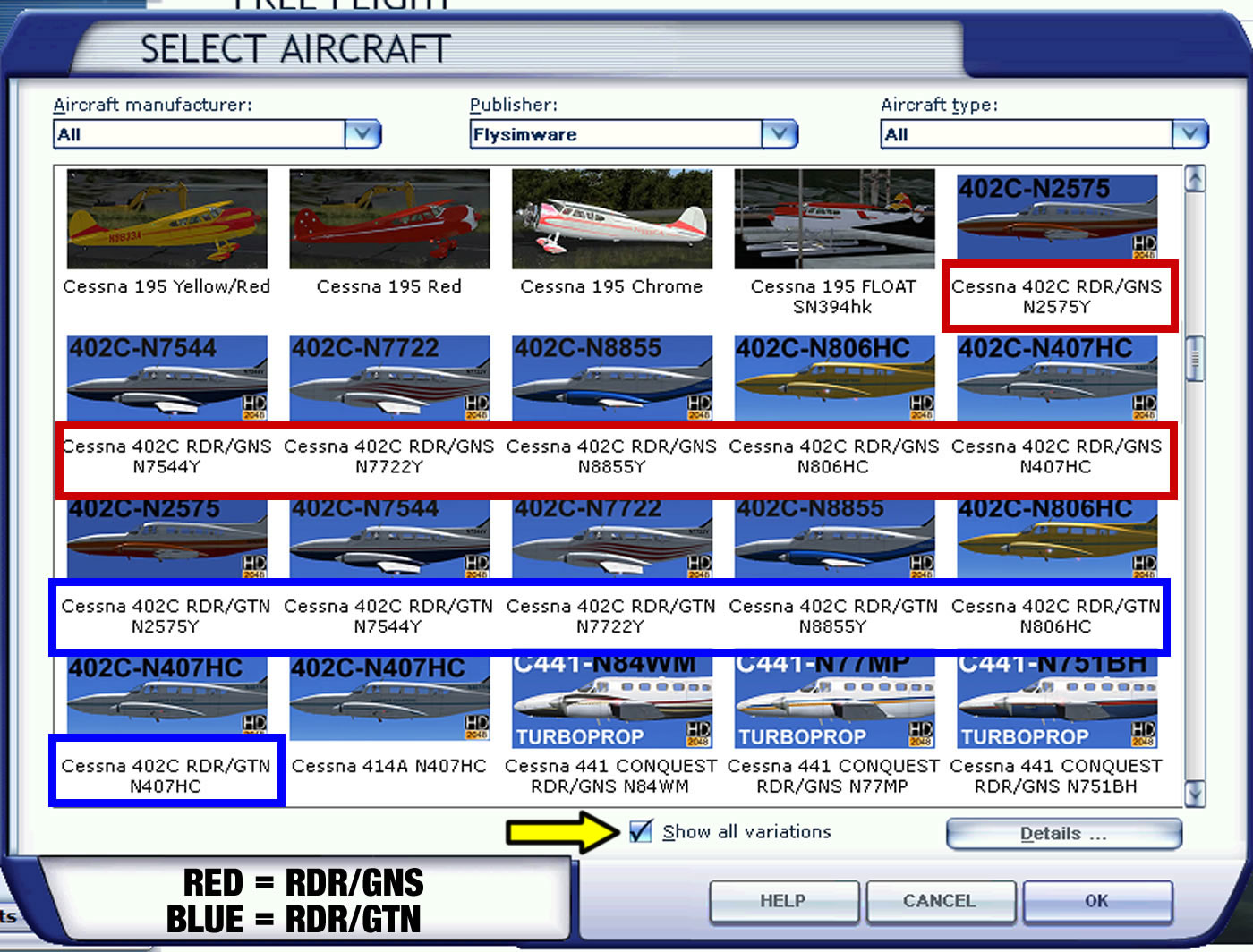 Add the RXP GTN to F1's GTN unit
If you own the the Cessan 441, 402 or the MU2B and own the RXP GTN 750 you can add the RXP GTN 750 to the integrated Flight 1 GTN 750 by following this tutorial. You will also need to download this file if you want full control of the button and knobs. This file is not required since you can control the GTN 750 using the touch screen for those features.
DOWNLOAD rxpGTN file for tutorial.
Steam Edition / P3D / installer help or issues!
Steam Edition instructions:
Just choose the FSX Steam Edition choice from our installer.
If you have your sim on another drive just click the tab to change the directory field.
Our installer updates your registry key to the installation location. So next time you run our installer it should find the location.
P3D instructions:
Choose P3D V1, V2, V3, V4 depending on your specific version.
For all future P3D versions just change the directory field to the sims location.
If you have your sim on another drive or need to find another location just click the tab to change the directory field.
Our installer updates your registry key to the installation location. So next time you run our installer it should find the location.
Steam Edition crashes when i load your product:
All of our products use a special DLL for bonus sounds and the sim will require that you allow the program to run as administrator.
INSTRUCTIONS:
1. Right click the shortcut for FSX:SE and click Properties.
2. Click the tab compatibility.
3. Under Privilege Level, check the box for "Run this program as administrator".
P3D V4 crashes when i load your product:
Everytime P3D V4 updates and you own the Milviz REX Radar or any payware GNS or GTN GPS from Reality XP or Flight 1 you will need to get updates for those products. The Company's usually update within a week or so after P3D updates. Since we integrate these products in some of our models they will cause a CTD (Crash to destop) when you load or reload the aircraft if you own these add ons and they are outdated after you update P3D V4. If you do not own any of these products contact us as there is no reason for our products to CTD.
Installer help!
Product installer issues:
Does the installer stop at the registration page?
If the installer stops at the registration page you can try: Copy your registration key before you run the installer so you do not have to type the registration key. Add any name in the name box. If you still can't get to the next page, Email Flysimware with your registration code. We can confirm your reg key works.
If you can get past the registration page but the destination directory field is blank. This means you did not install your simulator on the local machine or you transfered your simulator to another location. Click the tab to the right and choose the correct directory.
If you get a message saying no simulator here then you are using a folder that does not contain the simulator files.
Does the installers work for P3D V4?
We are in the process of updating all the installers. Visit the product page and click all updates to see if the new installer is available for P4D V4.
Or choose V3 for the installation if the installer is outdated. On the destination page click the tab to the right and choose the correct directory to V4 or any future version. This will update the registry so that V3 will now look for V4 in the future. To reverse this registry update you must choose V3 then change the detination field to V3 location.
Download & Update help!
Patches and Updates
Update info & patches (If there is a patch) are located on each product page from our main website. To download a new version, re download the product from the store you made the purchase from. Usually under orders and history. Most products have a registration key posted on the download page.
The version is listed under Programs and Features and the installer file name.
To un install use Programs and Features from the control panel.
Best to uninstall before installing an newer version so it will insure all the files get updated. Also our newer installer for the L35 and Falcon 50 it's best to uninstall every time so it deletes the previous installation logs stored on our server. This way if you change hardware or upgrade windows you will not get an error code telling to to contact Flysimware and prevent you from installing.
If you have any custom updates or repaints make sure to make a copy of those files before uninstalling. Once uninstalled go to the aircraft folder and delete any left over files before installing the new version. This can only happen if you have altered custom files or forgot to uninstall before installing a newer version.
Sim issues!
"Creation – Failed. Check if sound file is available"
If you get this message and then the sim crashes. You must use the installer to install the product or you will be missing custom sounds and this will cause a creation failed. Another reason this could happen is if you have no speakers or headset plugged into your computer. Because again our custom sounds use the computers sound system through our DLL and not the sim itself. So there must be active sound using windows or it will fail and the sim will crash. To check this error click any toggle switch.
Missing gauges /skin / textures are not loading on my aircraft:
FSX box version requires the freeware SP2 update or payware Acceleration update.
SP2 will require that you install SP1 first. There are only a few sites that have this file availble. You must search for "Download FSX SP1". Fly Away website has this download.
Here is a link to download the freeware update SP2. https://www.microsoft.com/en-us/download/details.aspx?id=8986
If you want to get the payware update acceleration you need to search on Ebay or Amazon for a copy since they no longer manufacture this product. You can get just acceleration or FSX Gold Edition which includes both FSX and Acceleration.
If you prefer to own FSX that is up to date and is current then i suggest buying FSX Steam Edition. This can be purchased for a lot less money and can be downloaded at Steam store online. Once you own FSX:SE no extra updates are required to use our products as this software is always up-to-date.
Product help!
GPS will not turn on or switches not moving
Download the GPS manual from product page. The knobs are mouse wheel controlled because the power knob also includes brightness control. You can L/R click but takes several clicks. Also download the user manual located on product page and read the mouse controls sections. Some switches are 3-way and need L/R click to move each directions. Some options may need a wheel click.
Payload manager installer shows error
Payload manager installer not creating DLL.xml file for P3D V3-V4 or XMLTools64.dll can't find folder to create. OPEN INSTRUCTIONS
How to create light switches for keyboard or hardware that FSX does not include.
FSX only has assignments for landing lights, strobe and panel lights. To create more assignments use these instructions. OPEN INSTRUCTIONS
C441 throttle levers are returning to idle after i move them forward: / I have no power to take off using the C441:
The manual explains your issue under "Start Locks" section. The throttles are not moving forward because the start locks are still locked. Open the aircraft option panel (SHIFT-2) to confirm you have un locked the start locks after startup. The manual will explain how to re lock the props during shutdown for the next time you re start your engines or you will have to follow the instructions to manually re lock them.
The panel looks blury and not sharp like in the photo samples:
Turn your global texture resolution slider up (located…setting, display,graphics)
I installed animated gates and can't find the gate at any location:
You must add each airport in your scenery library located (setting,scenery library). There is a main master file that gets added to the library for each region. 11 total entries to add for each region. Our product page has a video lesson on adding scenery to the game's library!
Instructions for AG 2011: Parking brake sends and re-tracts the animated gate! Change frequency during taxi to have the correct info on billboard!
FIX FOR REGIONS 4-6 OPEN INTSTRUCTIONS
Why are my FPS slow on the exterior model?
GNS 530 GPS Help!
Can't turn on the power knob. Use the mouse wheel for the power knob as it has brightness control. Knobs tune by the mouse wheel. You can left click to tune left and right click to tune right. Best to use the mouse wheel.
Help selecting Com or Vloc for the GNS 530 GPS unit Enter Page Here!
The Super Huey will not start:
SAMPLE ON HOW TO START Click to open instructions!
Saving your default flight with engines off or mixture cut can prevent the super huey from starting.
The default collective animation is so slow that a reload of the helocopter will cause the helocopter to lift off as soon as the flight loads. Best to save a flight with engines off.
Pilot Operational Handbook Download here!
NO SOUND: The Super Huey, Mosquito XE3, Cessna 195 and the Bell 47 have no sound using all P3D versions.
These package requires your own sound pack. Or you can open the sound folder, change the sound CFG and point to another helicopter name in your sim. We made these products before P3D came out. And our products will work for P3D but the sound config needs to be updated.
The Learjet 35A seems to steer reversed! "Lear 35A reverse steering":
It happens if you have auto rudder on under realism settings!
The ERCO Ercoupe 415C has no rudder control:
This aircraft has no rudder pedals in real life and is controlled by the ailerons. For this product you must go to SETTINGS / REALISM and check the box for AUTO RUDDER. Uncheck when your finished flying this aircraft.
The Velocity XL will not steer from the rudder control: Bought from the Steam Store!
If you do not own rudder pedals with toe brakes we have instrucrions on the Velocity XL product page that will change the free casteering type steering to rudder controlled steering.
INSTRUCTIONS
If you bought this product from the Steam store this version is already setup up for free cast steering. So if you "do not" own rudder pedals with toe brakes you are going to need auto steering enabled. Open the aircraft cfg file with notepad and look for the section called "contact points". The first line of code look for 180 and change it to 45. This will allow the front gear to steer when moving the rudder using twist on your joystick.
Dangerous Flight Alaska Tundra Mission does not load mission but starts at airport with an empty kneeboard. No explosion or voice for the intro.
You most likely are missing aircraft or AI aircraft that is required for the mission.
Solution:
Either put back aircraft that you removed or reinstall FSX with SP1 and SP2 or ACC.