DESCRIPTION
GENERAL INFORMATION
The ERCO Ercoupe is a low wing monoplane aircraft designed and built in the United States. It was first manufactured by the Engineering and Research Corporation "ERCO" in 1939. It was designed to be the safest fixed-wing aircraft that aerospace engineering could provide at the time, and the type continues to enjoy a faithful following. The Ercoupe 415C production continued after the War in 1945, powered by a 65 HP Continental A-65-8 engine. Aircraft that used 2-control system were powered by a 75 HP Continental C-75 engines. Once Ercoupe model was built in 1946 with a retractable undercarriage but no production followed.
Special features:
are 2-control, Spin Proof, Stall Warning Cushion, Tricycle Landing gear, Steerable Nosewheel, Full Horizon Visibility and Wheel pants.
Equipment:
A Continental C-75, Sensenich Propeller, electric starter, Generator, Battery, Propeller Spinner, Foot Brake, carburetor Heater, Bubble Windshield (Plexiglas type), Plastic Cabin Enclosure, Baggage Compartment and a full Set Contact Flight Instruments.
Performance Figures:
(All performance figures from Sea Level and Full Gross Weight)….. Top speed 120 MPH, Cruising Speed 96 MPH, Climb 720 Ft. Per Min., Service Ceiling 13,000 Feet, Range 450 Mi @ 105 MPH, 530 Mi @ 80 MPH, Take-Off Run (no wind) 520 Feet and Landing Run (no wind, full brake) 190 Feet.
FEATURES
SOUNDS
MODEL VARIATION
PAINT THEMES
N417MA – Civilian model (restored)
N3042H – Civilian model (restored)
N3642H – Civilian model (restored)
N3755H – Civilian model (restored)
N946607 – Civilian model (restored)
NC3530H – Civilian model (restored)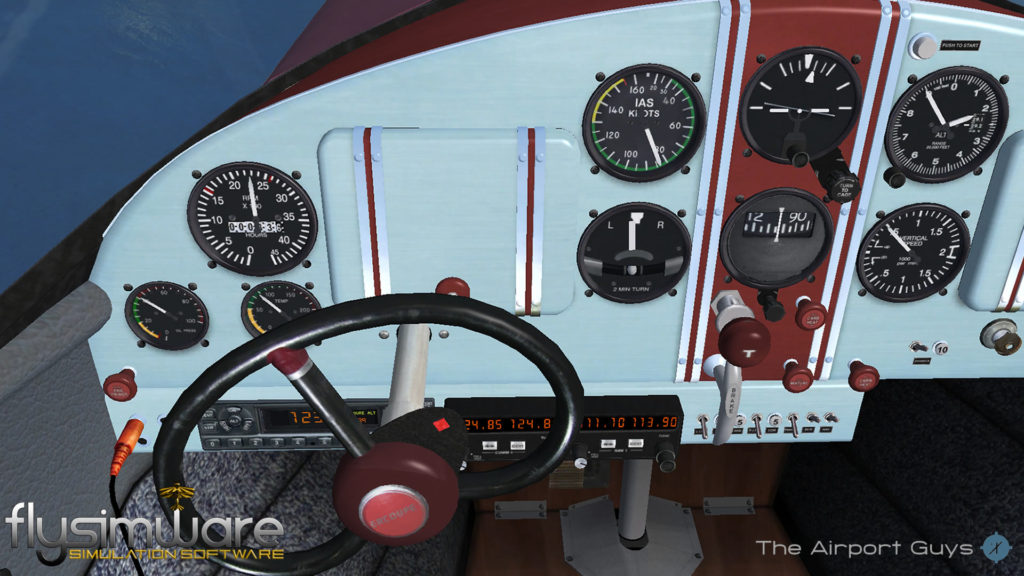 ---
AVAILABLE THROUGH THE STEAM STORE / REQUIRES FSX:STEAM EDITION
---
Pilot Manual

OCT 10, 2013
REQUIREMENTS
MINIMUM SYSTEM REQUIREMENTS
Operating System: Windows 7 and up, older os we can't guarantee compatibility or support 
Processor: 1.5 gigahertz (GHz) 
Memory: 4 GB RAM 
Graphics: 2 GB DirectX 10-compatible video card 
Sound Card: Sound card, speakers, or headset