DESCRIPTION
GENERAL INFORMATION
The B205A-1….Civil or military utility transport helicopter version, initial version based on the UH-1H. Powered by one T53-13A, max weight 9,500 pounds (10,500 for external loads), max passengers, 14.
Super Huey UH-1D Iroquois….The new Huey was designated UH-1D by the US Army and as the Model 205. The enlarged cabin could also accommodate six stretchers, double that of the earlier models, making the "Delta" a good MEDEVAC aircraft. In place of the earlier model's sliding side doors with a single window, larger doors were fitted which had two windows.
Super Huey HH-1D….Army crash rescue variant of UH-1D.
FLYSIMWARE INFORMATION
The Super Huey was designed for prepar 3D and FSX, but sold separately. If you like lot's of realism, this is your new baby! With 3 generators and a fire suppression system, you can recover from many failure types or extinguish that engine fire ASAP. The payload manager can hold up to 10 passengers, cargo and 1 injured passenger. Cabin interior lights really brighten up the whole rear cabin. The HSI allows you to switch from slaved or un slaved from the magnetic compass. The HSI can mimic your ADF needle and still show your navigation heading. Your control panel keeps you updated and controls all your odds and ends. We even added a siren to annoy the neighborhood. These models were tested by a real helicopter pilot.
FEATURES
SOUNDS
MODEL VARIATION
PAINT THEMES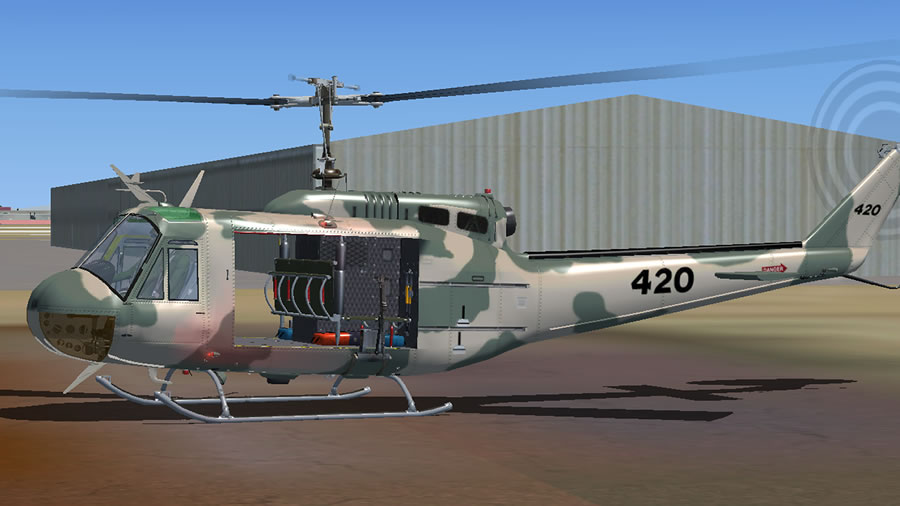 ---
Pilot Manual

May, 25 2021
---
ALL UPDATES
P3D Sound Set

Replace this sound folder to the products main folder sound file.
Tips:
The default collective animation is so slow that loading a saved flight with engines on will cause the helocopter to lift off the ground as soon as the flight loads. Best to save a flight with engines off. This is a default air file issue that can't be fixed.
Bucket & Tank Instructions :
Click R/L hoist so arrow is down.
Get low enough so bucket is under water.
Click arm & load.
Click R/L hoist so arrow is up.
Click and hold drop load to see water dropping, once you release water in bucket is gone.
Hoist Instructions :
Open door 4 (Shift + 4)
Click R/L hoist to lower and raise hoist
Click load or drop cargo to load a human in basket.
REQUIREMENTS
MINIMUM SYSTEM REQUIREMENTS
Operating System: Windows 7 and up, older os we can't guarantee compatibility or support 
Processor: 1.5 gigahertz (GHz) 
Memory: 4 GB RAM 
Graphics: 2 GB DirectX 10-compatible video card 
Sound Card: Sound card, speakers, or headset