DESCRIPTION
FLYSIMWARE INFORMATION
Alaska air travel is necessary for the most interesting, and unique wilderness adventures Alaska has to offer. Alaska bush pilots will fly you to some of the wildest, and most beautiful places on the planet to step foot on extremely remote pristine beaches, high mountain glaciers or wilderness river shorelines. The possibilities are endless.

Estimated time to complete: – 65 minutes
AIRCRAFT
Alaska Tug (Included)
Piper Cub (Default) 
Custom Tundra Piper Cub (Instruction)
SOUNDS
OBJECTIVES
Land at Creek, Coast, Oil Tanker, PAEN, Beach
ANIMATION
TIP:
Load the mission called: Dangerous Flights FSX Alaska Tundra
If you have crash enabled and do not finish the entire mission you can load the other missions to start along the path.
The mission in order……
1. Dangerous Flights FSX Alaska Tundra
2. Alaska Tundra PAEN
3. Alaska Tundra creek
4. Alaska Tundra Beach
5. Alaska Tundra Tanker
6. Alaska Tundra Coast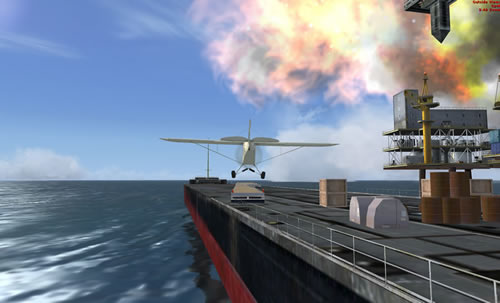 ---
Sorry there is no manual. The zip file includes a message to visit here which a standard included message. Watch the video above and read the custom tundra instructions below. Also remember to start the mission by clicking the main mission name. The others short names are to start along the route. The missions are under "Backcountry" category.
 
MISSION NOT LOADING!
Dangerous Flight Alaska Tundra Mission does not load mission but starts at airport with an empty kneeboard. No explosion or voice for the intro.
You most likely are missing aircraft or AI aircraft that is required for the mission.
Solution:
Either put back aircraft that you removed or reinstall FSX with SP1 and SP2 or ACC.
---
Version 1.1 available FEB 6, 2017
REQUIREMENTS
MINIMUM SYSTEM REQUIREMENTS
Operating System: Windows 7 and up, older os we can't guarantee compatibility or support 
Processor: 1.5 gigahertz (GHz) 
Memory: 4 GB RAM 
Graphics: 2 GB DirectX 10-compatible video card 
Sound Card: Sound card, speakers, or headset