DESCRIPTION
GENERAL INFORMATION
The Widgeon was originally designed for the civil market. It is smaller but otherwise similar to Grumman's earlier G-21 Goose, and was produced from 1941 to 1955. The aircraft was used during World War II as a small patrol and utility machine by the United States Navy, US Coast Guard and by the Royal Navy's Fleet Air Arm.
FLYSIMWARE INFORMATION
Almost all parts animated throughout the interior model. With custom coding we have accurate systems down to the smallest details. We have included Flysimware's GNS 530. Includes a popup windows for a service hangar, aircraft options, startup procedures and a live payload manager. This is Flysimware's first model that was developed with 3DS MAX giving you full AO effects on all 3D parts. Flysimware keeps improving the quality and overall systems for each project.
FEATURES
SOUNDS
MODEL VARIATION
PAINT THEMES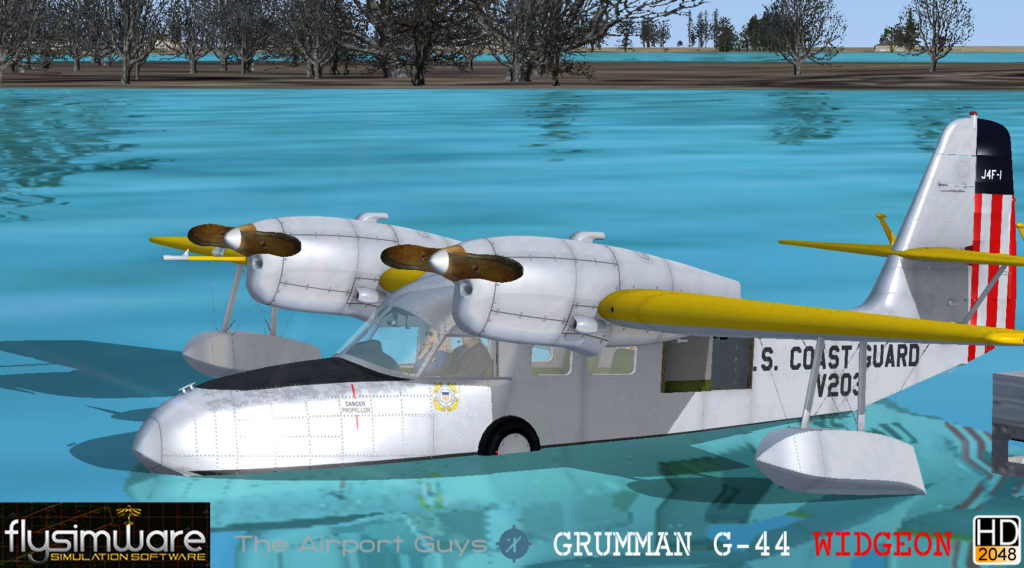 ---
Pilot Manual Version 2.1

APRIL 2, 2016
GNS 530 Manual Version 1.1

APRIL 26, 2017
---
PAINT KIT
ALL UPDATES
ADD RUDDER CONTROLLED STEERING
If you do not own rudder pedals with toe brakes then locate and open the aircraft.cfg file with notepad and look for the section called "contact points". Then locate the line entry point.0 look for 18 and change it to 45. This will be the 8th position from the left.
REQUIREMENTS
MINIMUM SYSTEM REQUIREMENTS
Operating System: Windows 7 and up, older os we can't guarantee compatibility or support 
Processor: 1.5 gigahertz (GHz) 
Memory: 4 GB RAM 
Graphics: 2 GB DirectX 10-compatible video card 
Sound Card: Sound card, speakers, or headset